Top Five Wasp Costumes!
Luckily for us, there is a fellow out there named Ragno Dimaggio, who put together (on his neat website
here
) all of Wasp's costumes!!
Here are my top five!!
5.
This is a nice one, I thought, designed by Alan Davis when he took over the art on Avengers from George Perez a few years back. It is stylized, but not TOO stylized. I dig it.
4.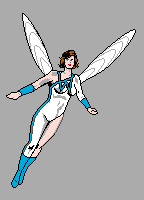 This George Perez is so different that it has always stuck in my mind.
3.
This design, from the mid-#50s, was the first Wasp costume to really mature past some of her goofier early costumes. In it, you can see the inspiration for a lot of future costumes.
2.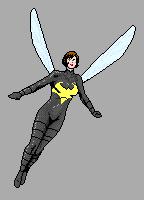 This design came from Carlos Pachecho's Avengers Forever, and was followed during most of Geoff Johns and Chuck Austen's run. I think it is a strong outfit, with just enough of an Ultimates sensibility to seem modern and "hip."
1.
This was from Roger Stern and John Buscema's run, so maybe I like it because I liked the stories so much, but really, I think that it is one of the simple, yet effective costumes. A real follower of the Ron Frenz Rule!
That's it for me, let's see YOUR picks!