TOP FIVE WEEK!!!
What a treat!! Today begins Top Five Week!!!!
Every day this week, I will rank the top five SOMETHING!
Today?
Top Five Public Service Announcement Comic Books!!!
Honorable Mention to Spider-Man and Power Pack #1, where we learn that Peter Parker was molested as a young boy, the Spider-Man in Canada series of comics from the early 90s, where each of the four issues was a public service announcement on one issue or another, and finally, Spider-Man vs. Prodigy, which I would have loved to have spotlighted, except it just is not good (Spider-Man vs. Prodigy is via Planned Parenthood, and it involves an alien using mind control to make teenagers have unprotected sex...hehe).
5. Spider-Man vs. Doctor Octopus: Chaos At The Construction Site.
This story, "Managing Materials," was a one-shot by an organization devoted to the advancement of minorities in engineering. It was written by Dwayne McDuffie, with art by regular Spider-Man artist, Alex Saviuk. Spidey fights Doctor Octopus, and is lent a hand by some helpful engineers. Fun story.
4. Batman: Seduction of the Gun. Some people felt that this comic was too one-sided in its views about gusn, and perhaps that is true, but John Ostrander and Vince Giarrano still delivered a strong comic book story, filled with loads of drama.
3. X-Men Heroes For Hope and Heroes Against Hunger (Shared Listing)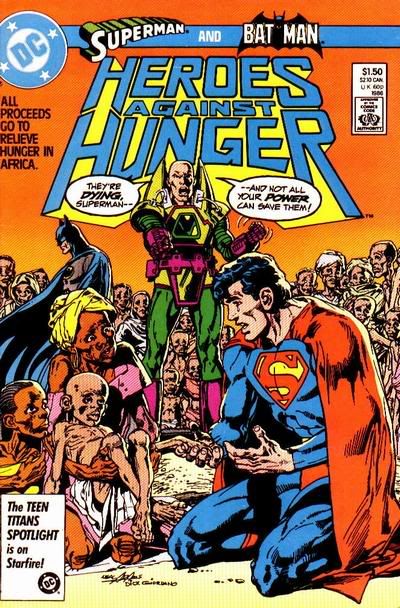 Neither of these comics had the best story, but both of them were All-Star comic jams, so they are both still quite worthwhile reading, just to see the amazing collection of talent in the comics.
2. New Tee Titans Anti-Drug Campaign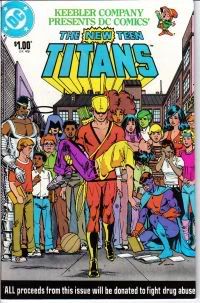 This comic was written and drawn by the regular New Teen Titans team of Marv Wolfman and George Perez, so that, right there, is a sign that the comic is going to be pretty good.
It may be a bit watered down by making it as universal as possible (and The Protector instead of Robin is silly), but it is still a good tale.
1. Batman: Death of Innocents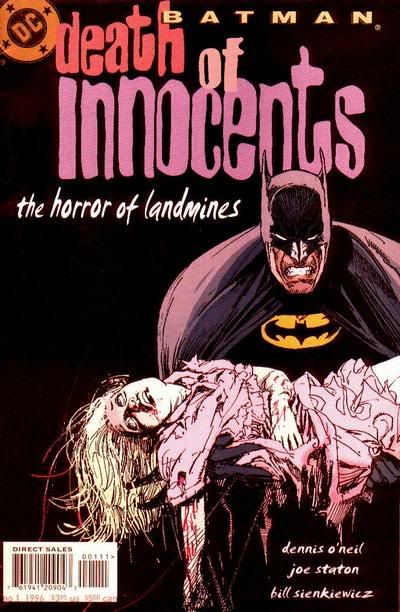 Denny O'Neil points to this issue when he thinks of the best Batman issues he has ever done, but that is probably more because of what a success it was for the anti-landmine campaign (copies of this comic were printed up and parachuted into countries tormented by landmines), but he should also be proud of how strong of a comic it was for being a public service comic book.
The art, by the unlikely pairing of Joe Staton and Bill Sienkiewicz, is strong as well.
The story details Bruce Wayne getting involved in the death of one of his employees by a landmine.
Just a strong, strong work.
Well, that's my Top Five!
Feel free to tell me YOUR picks!!!