Top Five Weirdest Inter-Species Comic Relationships!
Top Five weirdest romantic relationships between people of different species!!
Honorable mention to the most popular example of this type of thing - Clark Kent and Lois Lane!
Clark is a Kryptonian, while Lois is a human.
The reason they are not higher on the list is because, well, Clark looks totally human!
Kelmo Caesar from Top Ten WOULD be on the list, but I can't remember the name of the woman he ended up with.
5. A tie between Yera and Colossal Boy in Legion of Superheroes and Johnny Storm and Lyja in Fantastic Four.
Both romances followed the same basic path.
The hero falls for a woman he THINKS is someone he knows (Colossal Boy - Shrinking Violet, Human Torch - Alicia Masters), but they both turn out to be shape-shifting aliens (Durlan and Skrull, respectively).
Fantastic Four gets extra credit for actually trying to make a love triangle out of it!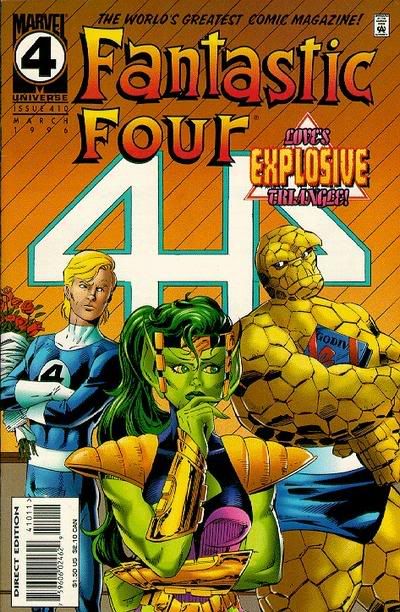 4. Mikaal (the alien Starman) and Leander
Mikaal had a tough time, as he was basically a moron for his first few appearances.
But eventually, he gained his sentience back, and, towards the end of the series, he started dating Leander.
3. Dream (of the Endless) and Thessaly
This romance was done mostly off panel, as we see Dream freak out about it before we learn WHO he is freaking out about.
Still, it is quite the pairing - a witch and a member of the Endless!
2. Abby and Swamp Thing
She is a human, he is a collection of swamp plants!
They have sex through a sharing of a fruit!!
Tripppppy!
1. Vision and the Scarlet Witch
She is a human, he is an android!
He impregnated her through MAGIC SPERM!!!
That has to be the winner, clearly!
Did I miss any other inter-species relationships of note?