Snark Free Fun For the Whole (Superman) Family!! #2
Today's Superman Family spotlight is #178!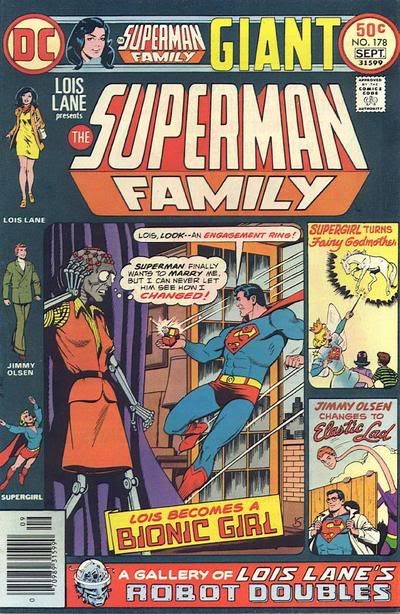 In this issue, we have a new story of Lois Lane deciding to become a cybernetic woman, so that Superman would not have to protect here and would be willing to marry her.
Silly Lois.
In any event, the changes also transform her into a ROBOT eventually, as her body can't keep up with the changes!
There is some really crazy Kurt Schaffenberger in this issue.
Eventually, a deus ex machina machine shows up and saves her.
The Supergirl story is a classic from the late 50s, where Supergirl convinces a group of orphans that fairy tales DO exist.
But then she hypnotizes them into believing it was all a dream.
Which makes you wonder...
A. Why go through all that effort if you just plan on making them all think it was a dream? I mean, she does some elaborate tricks here.
B. Why not just hypnotize them into believing in fairy tales?
Fun story, anyways.
The Jimmy Olsen reprint, though, is a great one.
Jimmy, as Elastic Lad, finds his way into the Phantom Zone, where he spies on everyone like any normal person would do if they could look at others without being seen.
However, the other Phantom Zone villains trick him into seeing Superman change into Clark Kent - only Jimmy...KEEPS HIS EYES CLOSED!!
What a great friend he is for Superman.
Great story.
Anyone here ever read any of these stories?