Really Cool Characters - Captain Comet
With his recent appearance in Rann/Thanagar War (and I presume a role in Infinite Crisis, as well), I figured it would be nice to give a bit of a history for the comic character, Captain Comet.
Adam Blake, Captain Comet, made his first appearance in 1951 in Strange Adventures #9, written by John Broome, with art by Carmine Infantino.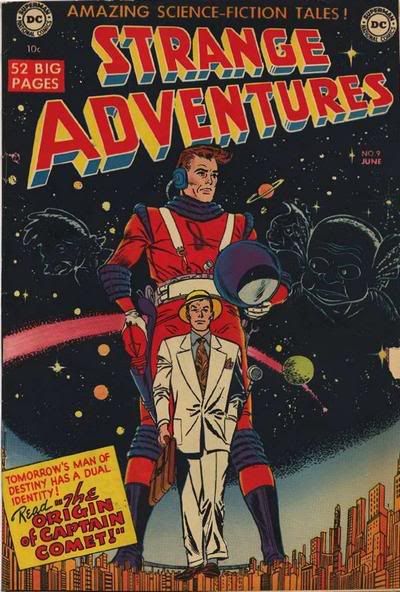 Captain Comet was a mutant. He was basically the next step in human evolution (due to rays from a, you guessed it, comet). He had telepathy, increased intelligence, flight and super strength.
Comet starred in Strange Adventures for the next three years, with Broome handling the story, and eventually Murphy Anderson taking over on art chores.
The last Captain Comet story for decades appeared in Strange Adventures #44...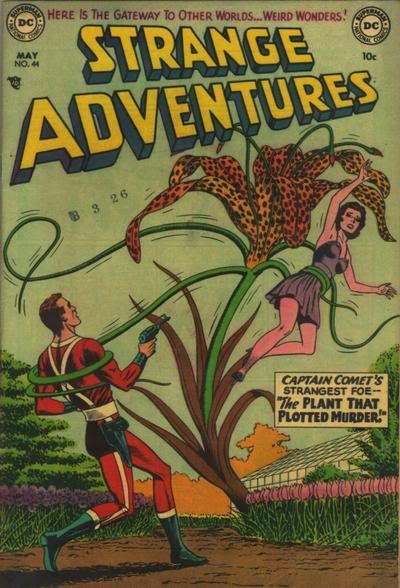 Comet did not appear again until the mid-70s, when Gerry Conway brought him back as the main foil in his series, The Secret Society of Super Villains. Comet was able to infiltrate the group because no one recognized him. As it turned out, he had not appeared for the past two decades because he was busy exploring outer space.
After this title, Comet went back to exploring outer space, and eventually ran into and became involved with the intergalactic protection agency, L.E.G.I.O.N.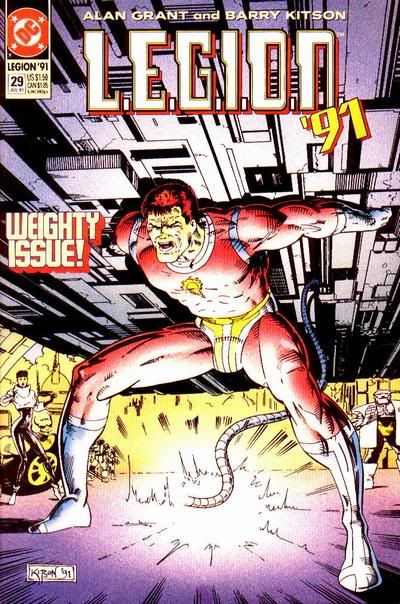 He served with the L.E.G.I.O.N. until he was seemingly killed by a possessed Lady Quark. He recovered, though, and used his powers to speed up evolution on the planet where he was buried (apparently alive) to the point where they could build a spaceship for him to travel back to L.E.G.I.O.N.
At this point, he became the new leader of L.E.G.I.O.N., but apparently the wanderlust got to him again (and Vril Dox probably got tired of NOT being in charge of L.E.G.I.O.N.), so he went back to exploring outer space.
This brings us up to Rann/Thanagar!
Captain Comet - Really cool character.